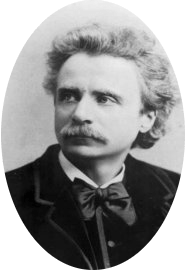 In the Hall of the Mountain King was composed in 1875 by Edvard Grieg. It is well known as the Alton Towers Theme . This has been arranged for Piano Level 3
In the Hall of the Mountain King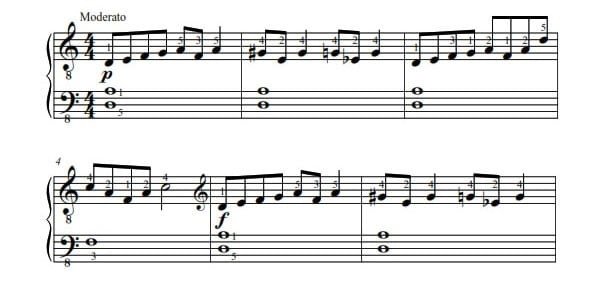 Sheet Music bars 1 to 6
"In The Hall Of The Mountain King" Level 3 Sample."
Press play on the audio track above
Bars 1 to 8 (0:00 to 0:12) is the opening theme.
Bars 9 to 10 (0:13 to 0:18) is the contrasting staccato theme.
Bars 21 to 24 (0:19 to 0:25) is the build up to the grand finale.
This arrangement is 24 bars long.
Beginner Piano Level 3
Sheet Music bars 1 to 6
In piano level 3 your left hand stays still and covers a 5 note range. Your right hand plays the melody (tune) and moves where required.
The aim of Level 3 is to play more complex piano sheet music, where you can focus your attention on the right hand, as it does most of the work.
Finger numbers have been added to each piece to make it clear which finger to use.
The music font size is large to make it easy for you to read.
A note map is added on every page so that your fingers don't get lost!
In the Hall of the Mountain King Piano Sheet Music
In the Hall of the Mountain King by Edvard Grieg is arranged at Piano Level 3 by Andrea Monk. It forms part of a collection of books and sheet music arrangements for the beginner piano player. It can be played on both piano and keyboard and is suitable for age 7 and above.
All sheet music arrangements are in PDF format and include an MP3 recording and MIDI file.
It is available from the Shop, priced at £1.95. Please click the button below to take you to the Sheet Music Shop.