Piano Sheet Music
24 Christmas Carols
Piece 1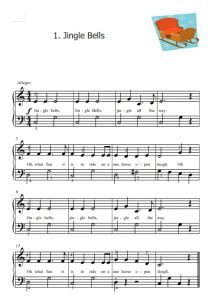 The 1st carol is Jingle Bells. This is arranged in the key of C major. The left hand rocks between the notes C and G giving the piece a steady rhythm.
1 Jingle Bells
Piece 24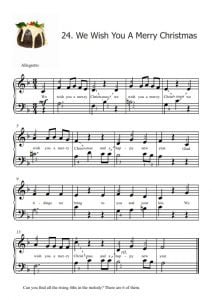 The final carol We Wish You A Merry Christmas became popular in Victorian England when carol singers sang under the safety of gas light. This is in the key of F major.
24 We Wish You A Merry Christmas
Assessing your Level
To assess you piano level skills Assessing your Level
Printing
If you are going to print the Book, print the cover separately on card and then the Book. To Print only certain pages when printing click here for more information.
Audio Tracks – mp3
1 Jingle Bells
2 O Little Town Of Bethlehem
3 The First Nowell
4 Deck The Halls
5 Once In Royal David's City
6 The Holly And The Ivy
7 O Come All Ye Faithful
8 While Shepherds Watched
9 Good King Wenceslas
10 See Amid The Winter's Snow
11 Ding Dong Merrily On High
12 God Rest Ye Merry Gentlemen
13 Angels From The Realms Of Glory
14 In The Bleak Midwinter
15 Away In A Manger
16 Hark The Herald Angel Sing
17 We Three Kings
18 Good Christian Men Rejoice
19 I Saw Three Ships
20 On Christmas Night
21 Coventry Carol
22 Silent Night
23 Little Donkey
24 We Wish You A Merry Christmas
Back