Piano Sheet Music
Piano Tutor Book One
Piece 1
The first piece in Book One uses only 2 notes per hand. The right hand plays middle C and D. The left hand plays middle C and B.
1 Pairs
Piece 32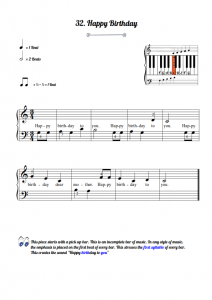 In the final piece of Book One you will be playing using all your fingers. Happy Birthday is the most well known song in the world!
32 Happy BIrthday
Assessing your Level
To assess your piano level skills Assessing your Level
Printing
If you are going to print the Book, print the cover separately on card and then the Book. To print only certain pages when printing, click here for more information.
Piano Audio Tracks – mp3
01 Pairs.mp3
02 Steps.mp3
03 Climbing Up.mp3
04 Walking Down.mp3
05 time to fly.mp3
06 red tail lights.mp3
07 The snake.mp3
08 Merrily we roll along.mp3
09 yankee doodle.mp3
10 Johnny go home.mp3
11 Patterns.mp3
12 Waltzing.mp3
13 Morning.mp3
14 Jennifer 1.mp3
15 Jack 1.mp3
16 Jack 2.mp3
17 The Village Fair.mp3
18 Ragtime Bonanza 140 BPM.mp3
19 Mississippi Rag 140 BPM.mp3
20 The Street Song.mp3
21 Evening Chimes.mp3
22 Sailing Away 100 BPM.mp3
23 Watch The Tide 100 BPM.mp3
24 Frere Jacques 90 BPM.mp3
25 lavender's Blue 90 BPM.mp3
26 Seasons.mp3
27 This Old Man 100 BPM.mp3
28 Hot Cross Buns 100 BPM.mp3
29 Czech Folk Dance 90 BPM.mp3
30 Cuckoo 100 BPM.mp3
31 Running Away 100 BPM.mp3
32 Happy Birthday 90 BPM.mp3
Back to Tutor Books