Piano Sheet Music
Piano Tutor Book 2 with mp3
Piece 1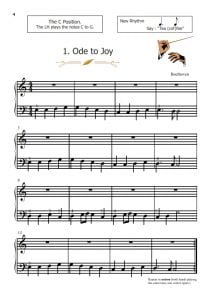 In Book Two the 1st piece is Ode To Joy by Beethoven. The left hand plays on its own. Then repeat in unison with your hands one octave (8 notes) apart.
1 Ode To Joy
Piece 33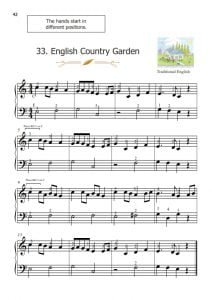 The last piece in Book Two uses a full octave range in the right hand. Split rhythms, a key change, repetition and running quavers are all present.
33 English Country Garden
Assessing your Level
To assess you piano level skills Assessing your Level
Printing
If you are going to print the Book, print the cover separately on card and then the Book. To Print only certain pages when printing click here for more information.
Audio Tracks – mp3
01 Ode to Joy.mp3
02 Monkey Do.mp3
03 Storm Side South.mp3
04 In The Army.mp3
05 Mozart's Minuet.mp3
06 Happy and Free.mp3
07 A Song Of Long Ago.mp3
08 Sharps and Flats Last.mp3
09 The Weather Song.mp3
10 Hear Those Beating Drums.mp3
11 Go And Tell Aunt Nancy.mp3
12 Oom Cha Cha.mpl
13 Mary Had a little lamb.mp3
14 Back To School.mp3
15 londond Bridge.mp3
16 The Buttercup.mp3
17 My Old Grandma.mp3
18 Jingle bells.mp3
19 Lightly Row.mp3
20 Hickory Dickory Dock.mp3
21 Drink To Me Only.mp3
22 Cockles and Mussels.mp3
23 Oom Cha Cha.mp3
24 Bethany's Wlatz.mp3
25 At the Country Fair.mp3
26 Fairy Queen.mp3
27 Frantic Fiddler.mp3
28 Sail On By.mp3
29 Crossing Over.mp3
30 Skip To my Lou.mp3
31 Climbing the Scale.mp3
32 Two nusersy rhymes in One.mp3
33 English Country Garden.mp3
Back