Piano Sheet Music
Piano Tutor Book 3 with mp3
Piece 1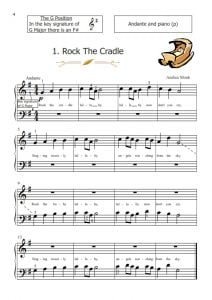 The 1st piece in Book Three introduces dynamics (playing quiet or loud) and tempo (playing fast or slow) markings for the first time. This is in the key of G Major.
1 Rock The Cradle
Piece 32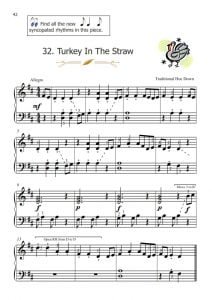 Book Three ends with a bright and lively American hoedown. The piece uses syncopation (offbeat rhythms) in bars 9 to 12. It is in the key of D major, using an F# and C# in the key signature.
32 Turkey In The Straw
Assessing your Level
To assess you piano level skills Assessing your Level
Printing
If you are going to print the Book, print the cover separately on card and then the Book. To Print only certain pages when printing click here for more information.
Audio Tracks – mp3
01 Rock the cradle.mp3
02 On A Sunday.mp3
03 The Snake Charmer.mp3
04 Bad Dreams.mp3
OS Acorns.mp3
06 Imaginary Friends.mp3
07 Dreaming Dogs.mp3
08 Farmyard Noises.mp3
09 Hush Little Baby.mp3
10 Grandfathers Clock.mp3
11 The Choir Rehearsal.mp3
12 No Left Shoe.mp3
13 The Fancy Dress Party.mp3
14 The Fireman.mp'3
15 Show Me The Way Go Home.mp3
16 Off To Market.mp3
17 Musette.mp3
18 Lullaby Baby.mp3
19 Busy Bees.mp3
20 The Snail Race.mp3
21 Alouette.mp3
22 Nocturne.mp'3
23 Caterpillar.mp3
24 Pop Goes Weasel.mp3
25 Schuberts Waltz.mp3
26 Skye Boat Song.mp3
27 Blow The Man Down.mp3
28 Drunken Sailor – Copy.mp3
29 Can Can.mp3
30 Baltimore Rag.mp'3
31 Campdown Races.mp3
32 Turkey In The Straw.mp3
Back