Piano Sheet Music
Piano Tutor Book 6 with mp3
Piece 1
The 1st piece in Book Six is a sonatina (short sonata) by Clementi. It uses the 3 sections found in a full sonata: exposition, development section and recapitulation.
1 Sonatina in C by Clementi
Piece 20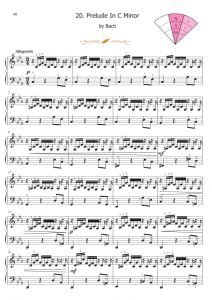 Book Six ends in the key of C Minor, using 3 flats. Bach wrote this Prelude with a continuous, fast semiquaver rhythm.  The notes run smoothly between your hands, from start to finish without stopping.
20 Prelude in C Minor by Bach
Printing
If you are going to print the Book, print the cover separately on card and then the Book. To Print only certain pages when printing click here for more information.
Audio Tracks – mp3
01 Sonatina In C.mp3
02 Swan Lake.mp3
03 Turkish Rondo.mp3
04 Eine Klien Nachtmusik.mp3
05 Three Gnossiennes.mp3
06 Air On The G String.mp3
07 Hall Of The Mountain King.mp3
08 Prelude in A.mp3
09 Minuet In A.mp3
10 Hungarian Dance.mp3
11 Dance in E.mp3
12 Lullaby in E.mp3
13 Moonlight Sonata.mp3
14 Sonatina in F.mp3
15 Song of the Toreador.mp3
16 Baroque.mp3
17 Sheep May Safely Graze.mp S
18 Symphony No 40.mp3
19 Will O the Wisp.mp3
20 Prelude in C Minor.mp3
Back