Piano Sheet Music
Piano Tutor Book 5 with mp3
Piece 1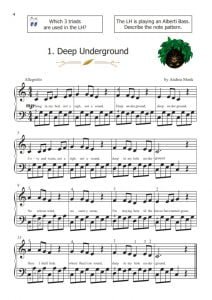 Book Five opens with an Alberti bass played in the left hand. An Alberti bass is a repetitive pattern compromising root, 5th, 3rd, 5th, root, 5th, 3rd, 5th. This was popular in the Classical Era (1750-1820). This piece is in the key of C major.
1 Deep Underground
Piece 32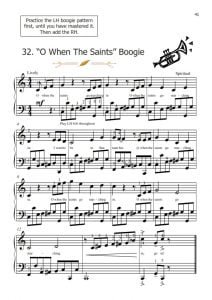 Book Five ends with an explosive 5 finger boogie. It is fast and furious and the melody of "O When The Saints Come Marching In" is played over the top of the boogie bass.
32 O When The Saints Boogie
Assessing your Level
To assess you piano level skills Assessing your Level
Printing
If you are going to print the Book, print the cover separately on card and then the Book. To Print only certain pages when printing click here for more information.
Audio Tracks – mp3
01 Deep Underground.mp3
02 Minuet in F.mp3
03 New World Symphony.mp3
04 Rigoletto.mp3
OS When Johnny Marching Home.mp3
06 Lilliburlero.mp3
07 Janes Waltz.mp3
08 Sleeping Beauty Waltz.mp3
09 Elves and Goblins.mp3
10 Celebrate the Harvest.mp I
11 Wraggle Taggle Gypsies.mp3
12 Caprice No 24.mp3
13 Tropical Chant.mp3
14 A Hunting We will Go.mp3
15 Greensleeves.mp3
16 Die Fledermaus.mp3
17 Polka.mp3
18 Bourree.mp3
19 William T ell.mp3
20 Sailors Hornpipe.mp3
21 Tritsh Trash Polka.mp3
22 Court Dance.mp3
23 John Browns Body.mp3
24 Evensong Bells.mp3
25 Brahms Lullaby.mp3
26 Fur Elise.mp3
27 Dear Sebastian.mp3
28 Dance of the Hours.mp3
29 Blue Tuesday.mp3
30 Blue Beards Stomp.mp3
31 Lonesome Cowboy.mp3
32 0 When The Saints Boogie.mp3
Back