Piano Sheet Music
Piano Tutor Book 4 with mp3
Piece 1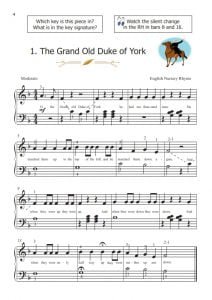 Book Four opens with a traditional piece in the key of F major, using a B flat in the key signature. For the first time in the series, you have to work out where to put your hands.
1 The Grand Old Duke Of York
Piece 32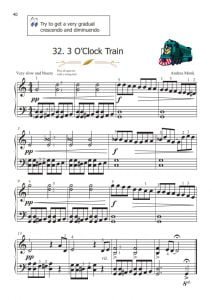 The final piece in Book Four is a slow piece played in a blues style. It introduces a shuffle rhythm. There is a large dynamic range from very quiet to loud.
32 3 O'Clock Train
Assessing your Level
To assess you piano level skills Assessing your Level
Printing
If you are going to print the Book, print the cover separately on card and then the Book. To Print only certain pages when printing click here for more information.
Audio Tracks – mp3
01 Grand Old Duke.mp3
02 Polly Wolly Doodle.mp3
03 Leap Frog.mp3
04 Kangaroo.mp3
05 Down On The Sand.mp3
06 Strawberry Fair.mp3
07 The Ash Grove.mp3
08 Country Fiddler.mp3
09 Robbie The Robot.mp3
10 Jiggety Jo.mp3
11 Highland Fling.mp3
12 Fairy Dance.mp3
13 Little Dutch Girl.mp3
14 Nuts In May.mp3
15 Three Blind Mice.mp3
16 Lincolnshire Poacher.mp3
17 Tarantella.mp3
18 Changing Places.mp3
19 Military Parade.mp3
20 British Grenadiers.mp3
21 Coming Round The Mountains.mp3
22 Red River Valley.mp3
23 Old Bull and Bush.mp3
24 Auld Lang Syne.mp3
25 Minuet In G.mp3
26 Polands Mazurka.mp3
27 Habanera.mp3
28 Late Night Rumba.mp3
29 Cactus and Coyote.mp3
30 Downtown Stomp.mp3
31 Hanks Boogie.mp3
32 3 oClock Train.mp3
Back